Get to Know Gabrielle & The Dao Acupuncture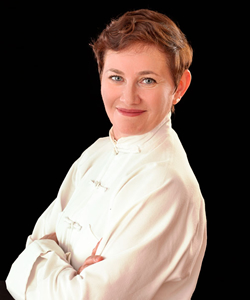 Gabrielle Zlotnik graduated from Moscow State University, USSR, with the M.A. in Linguistics and received her M.S. from the Swedish Institute School of Acupuncture, where she studied Classical Chinese Medicine under the tutelage of Mr. Jeffrey C. Yuen, Taoist doctor and priest; 88th generation of his Taoist lineage: Yu Ching Huang Lao Pai (Jade Purity, Yellow Emperor/Lao Tzu sect), and 26th generation of Chuan Chen Lung Men Pai (Complete Reality School, Dragon Gate sect). She also completed her Doctorate in Acupuncture at Pacific College of Oriental Medicine. Currently she is working toward her PhD in Classical Chinese Medicine at American University of Complimentary Medicine (Los Angeles, CA).
Gabrielle is a Doctor of Acupuncture (D. Ac.), licensed in the state of New York and Diplomate in Acupuncture (NCCAOM). She has completed post-graduate Advance Acupuncture and Chinese Dietary Therapy, Essential Oils and Gems and Stones Therapy certification courses taught by Dr. Jeffrey C. Yuen.
She teaches Classical Chinese Medicine Continuing Education classes.
Gabrielle practices Classical Chinese Acupuncture in New York City at 315 West 57th Street, Suite 306. 
Reach Gabrielle by sending an email, filling out the Contact form, or calling her at 917.647.3938 to book an appointment.